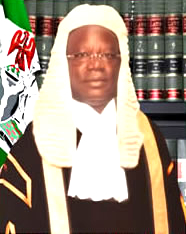 Honourable Justice (President of the Court) (2003)
Babatunde Adeniran Adejumo(OFR, MCIArb, GFISMN, CFAIR, FCIArb, FNILS) PRESIDENT
Honourable Justice Justice B.A. Adejumo, OFR is the President of the National Industrial Court. As President he has overall control and supervision of the administration of the Court. Prior to his current position, Justice Adejumo, OFR served in the Ondo State, Nigeria, Judiciary as a High Court Judge between November 5, 1998 and May 5, 2003. Before his elevation to the Bench, he had practiced law in Lagos, Nigeria for six years between 1986 and 1992; was a parliamentarian in the Ondo State House of Assembly between January 1992 and November 1993; a Chief Magistrate in the Ondo State Judiciary between November 1, 1994 and December 21, 1995; and a Deputy Chief Registrar at the Supreme Court of Nigeria, the apex court in the country, between December 21, 1995 and November 5, 1998 during which time he held the portfolio of Secretary to the Advisory Judicial Committee. Justice Adejumo, OFR, received his academic training as a lawyer at the Faculty of Law, University of lfe, lle-Ife, Nigeria (now Obafemi Awolowo University) and as a Legal Practitioner at the Nigerian Law School, Lagos, Nigeria. Due to the nature of his current position as President of the National Industrial Court, he has attended various national and international professional conferences, courses, seminars, workshops, and study tours in several European Countries, United States of America, the International Labour Organisation (ILO) in Turin, Italy, the Caribbeans, Africa, Australia, etc. He has also been actively engaged in arbitration, conciliation, mediation, settlement of trade labour disputes and is a member of the Chattered Institute of Arbitrators, England and Nigeria.
---