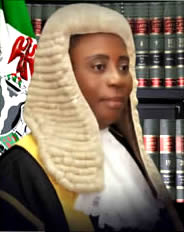 Honourable Justice (RETIRED) 2008 - 2015
Oluseun Adefolake Shogbola
Honorable Justice O. A. Shogbola is the immediate past Chief Registrar of the National Industrial Court. She was appointed a judge of the National Industrial Court in 2008. She came to the National Industrial Court with a wealth of experience as a Principal Labour Inspector for over 15 years at the Federal Ministry of Labour and Productivity. Prior to her current position, she received her Bachelor of Laws from the University of Lagos, Akoka, Lagos, Nigeria and was called to the Nigerian Bar as a Solicitor and Advocate of the Supreme Court of Nigeria. She later returned to her Alma Mater for her Master's Degree in Law. Justice Shogbola has ploughed in 16 years of cognate experience at the Court. She was appointed associate Lecturer in Labour Law the Department of Industrial Relations and Personnel Management, Faculty of Business Administration, University of Lagos (1992 to December, 2007). She participated in the drafting of the National Industrial Court Act 2006 and in the drafting of the National Industrial Court Rules 2007. Between 1995 and 2011, she attended 30 conferences, workshops and seminars at which fora she acquired various skills in human resources capital development, the law and practice of industrial relations, judicial administration and industrial harmony etc. She has gone on study tours to Singapore, Trinidad and Tobago, United Kingdom, South Africa, Italy (International Training Centre of the ILO, Turin) and Botswana. She has also attended international conferences, seminars and courses in Geneva (Switzerland), Toronto (Canada), The Hague (Netherlands) and Chicago (United States of America). She is a recipient of two prestigious awards as Distinguished Nigerian Women of Merit and Nigerian Women in Leadership Gold. Justice Shogbola is Associate Member, Institute of Personnel Management.
---